Screen Actors Guild Award Reception
at the Embassy of Croatia, 6:00pm-10:30pm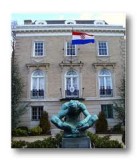 2343 Massachusetts Ave. NW, Washington DC 20008
Host: Bruce Olvin McBarnette, Esq. and Ingrid Parris-Hicklin
Sponsored By: Summit Connection, Roger Nakazawa, and the Embassy of Croatia
Curator: Myra Maslowsky
Artists: Myra Maslowky and Eloy Areu
Join SAG members and alumni from Princeton, John Hopkins, and New York University as we watch the Screen Actors Guild Award Ceremony broadcast live from Hollywood. View art work; meet diplomats; and enjoy wine, refreshments, silent auction, and the art of physiognomy (face reading) performed by Gail Romiti.
Black Tie attire for men and Gowns for women are required.
$33 for on-line payments on or before Jan. 10.
$39 for on-line payments after Jan. 10th, but on or before Jan. 17th or payments by mail postmarked by Jan. 10th.
30% of all art sales and will be donated to Charlies Place, a homeless service center in Washington, DC. Voluntary donations are also welcome.
If you mail your payment, wirte your check to "Summit Connection" and put in the memo line "SAG Reception" Mail your check to Summit Connection, 248 Willow Terrace, Sterling, VA 20164. Include a piece of paper with the names of the people for whom you are paying and your phone number and email address.
Questions contact bruce@mcbarnette.com or call (800) 777-7680